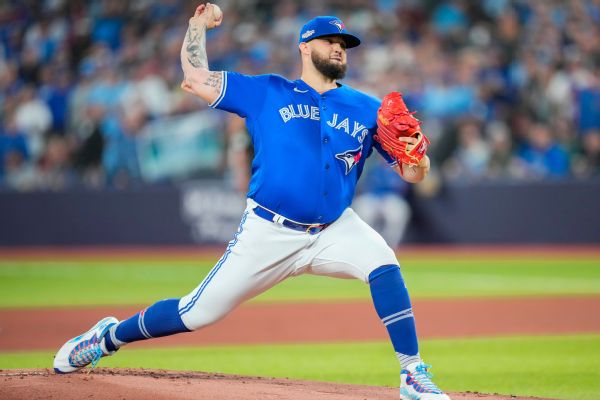 NEW YORK — Toronto All-Star pitcher Alec Manoah was among 15 players whose contracts were renewed by their teams instead of reaching mutually agreed terms.
Manoah, who finished third in the AL Cy Young Award voting, was given a $745,650 salary while in the major leagues and $353,100 if he was optioned to the minors. The 25-year-old right-hander was 16-7 with a 2.24 ERA last year, when he had a $706,200 salary and earned an additional $2,191,023 from the new bonus pool for pre-arbitration-eligible players .
This year's minimum major league salary is $720,000, up from $700,000.
Five players renewed for $720,000: Miami outfielder JJ BledayPittsburgh shortstop Oneil CruzMinnesota right-hander John DuránOakland catcher/designated hitter Shea Langeliers and Los Angeles Dodgers outfielder Andrew Toles.
Toles has not played since 2018 and was also renewed last year. He was placed on the restricted list in March 2019 and arrested in June 2020 on a charge of misdemeanor trespassing in Key West, Florida.
Others whose contracts have been renewed include the Philadelphia right-hander Connor Brogdon ($738,750), Detroit right-hander Alex Faedo ($721,300), Dodgers right-hander Michael Grove ($722,500), Texas catcher Jonah Heim ($745,660), Tigers right-hander Alex Lange ($726,000), Tampa Bay All-Star left-hander Shane McClanahan ($737,000), Rays right-hander Drew Rasmussen ($739,700), Baltimore catcher Adley Rutschman ($733,900) and Orioles right-hander Tyler Wells ($732,400).
Players are eligible for salary arbitration when they have three years of major league service, or are in the top 22% by service time of those with at least two years and less than three. They can become free agents when they have six seasons of service.
Teams can renew the contracts of unsigned players on their 40-man rosters from March 2-11.