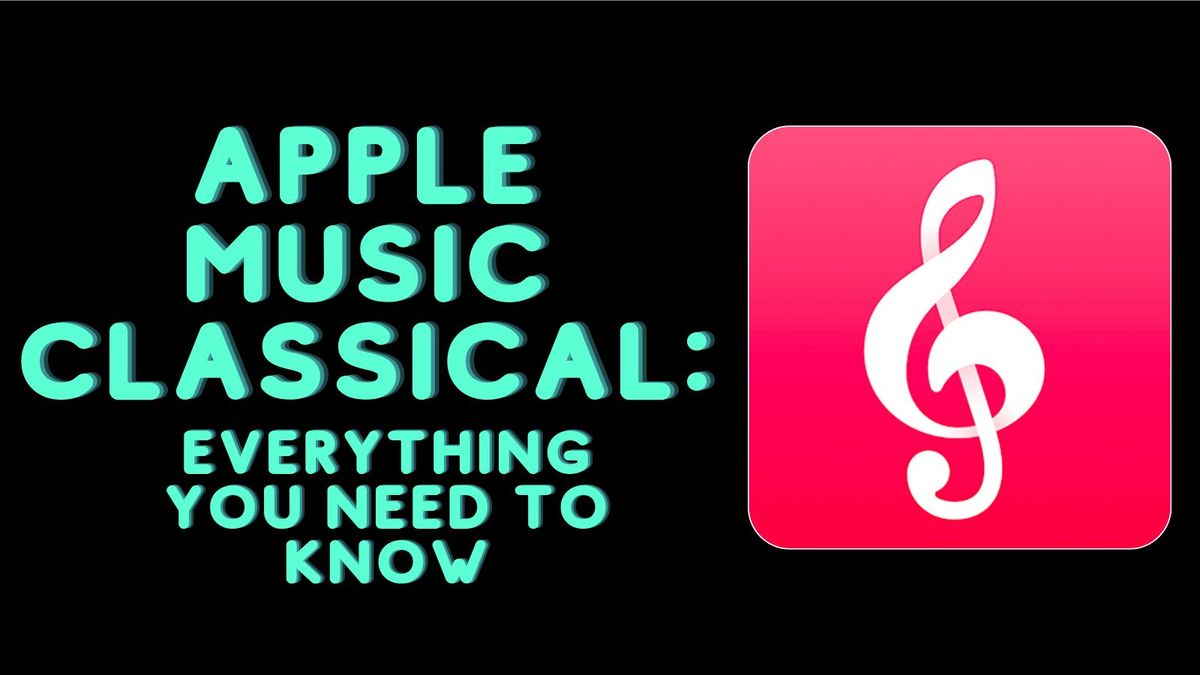 About two years ago, Apple bought the classical music streaming platform PrimePhonic. Since that day in 2021, however, there has been relative silence from the Cupertino company. Apple Music has retained its classical music library, there are no extra genre-focused panes in the Apple Music app, and there's no sign of a new app coming to the app store.
Until now, that is. An app store entry appeared out of nowhere, followed by a new Twitter page dedicated to the service. It's been a long time coming, but Apple Music classical is coming: and here's what we know.
Apple Music Classical: Release date
Apple Music Classical has a release date today – and it's March 28th. You can do it 'preorder' the App from the app store (opens in new tab) as well as to install it as soon as the app is released.
Apple Music Classical: Subscription
If you're already subscribed to Apple Music, you don't have to worry. It runs the same $9.99 per month subscription, so you can use Apple Music Classical as soon as it's released. If you're not subscribed to Apple Music, you'll need to fix that.
Apple One subscribers will also have access to Apple Music Classical, as it links to the Apple Music segment of your subscription.
Apple Music Classical: Compatibility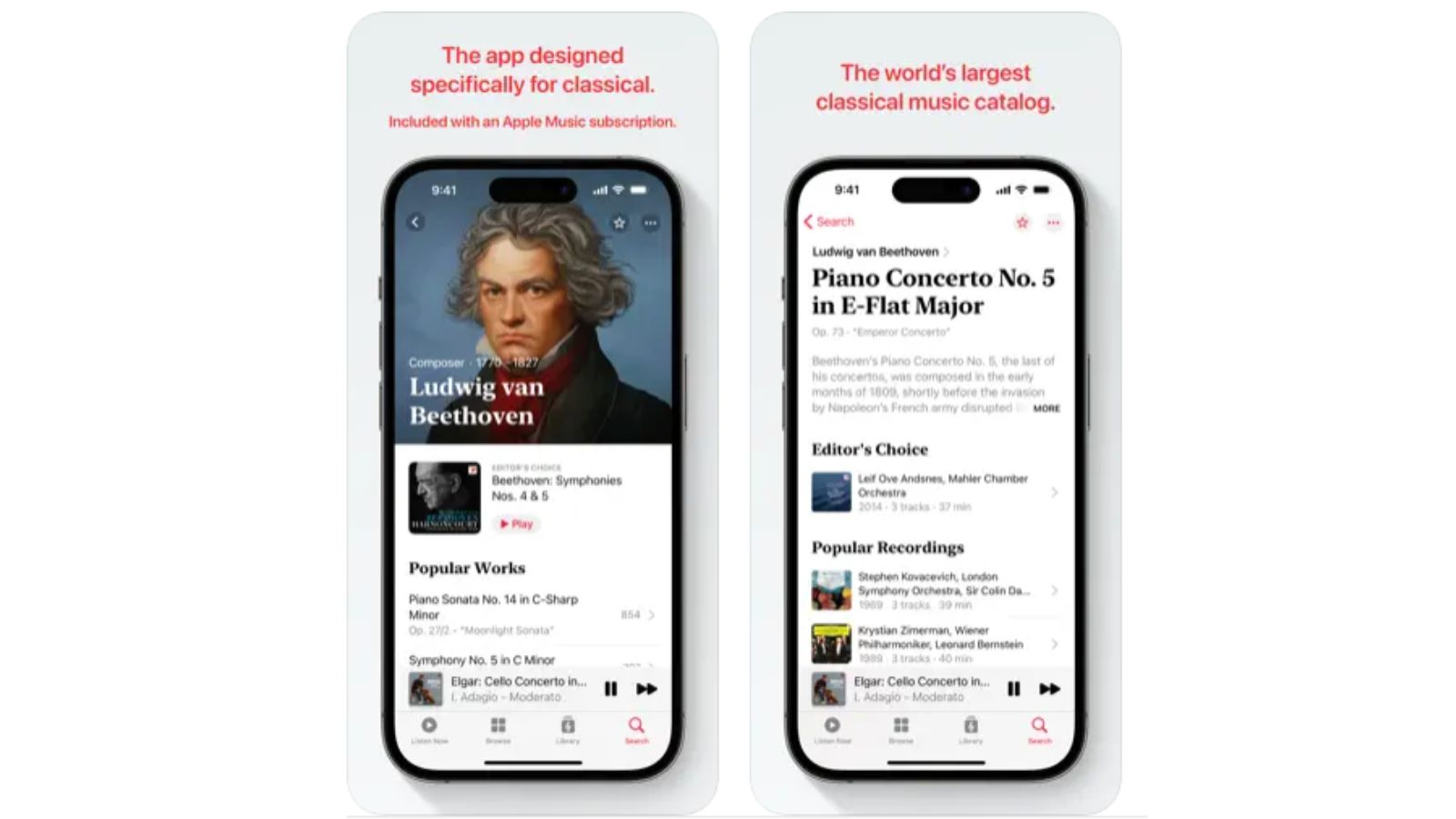 it has been confirmed that Apple Music Classical will only come to iPhones. It will be compatible with iOS 15.4 or later, so all best iPhones will work perfectly.
This means that the app is not coming (for now) to iPad and MacOS. This is a big shame for classical music fans who like to listen on their laptops or tablets. It can also make it more confusing to use with a connected HiFi system that may have a Mac Mini as its streaming core, which may annoy some. That's not to say it won't come to other Apple platforms, but for now, no dice.
Apple also says an Android app is on the way, so users of the Google platform will also be able to use the service.
Apple Music Classical: The headline feature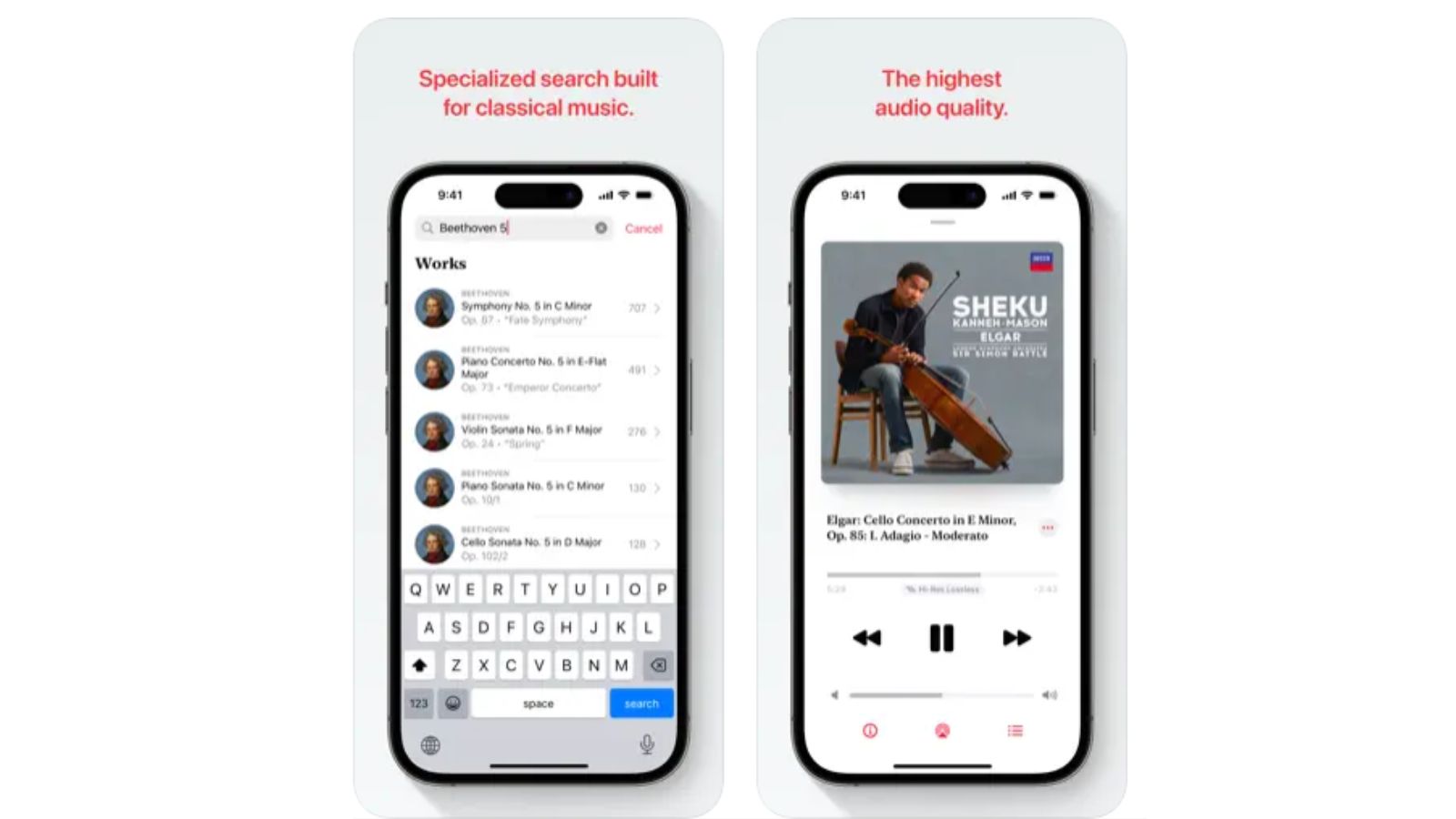 One of the biggest reasons Apple separates Apple Music Classical from the main Apple Music app is library curation. With normal music, you only need to worry about the artist, album, and track title. There may be some covers, but not enough to worry about not finding the right version.
Classical music is very different in this regard. Any single piece of music will have an original composer, and then many different versions of that piece by different orchestras, conductors, and even virtuosos playing certain parts of the track. There are so many other search parameters that come with classical music that an app like Apple Music can't handle.
Say, for example, that I want to listen to Prokifiev's Romeo and Juliet. I want to find the 1973 version by Andre Previn and the London Philarmonic orchestra, in particular. This is a recording that exists on Apple Music, but in the midst of searching for the title of the recording and sifting through other recordings and Mark Knopfler and Dire Straits tracks, it was very difficult to find the piece I was looking for. With Apple Music Classical, I can find this recording more easily, with different search parameters that meet the needs of classical music and its fans.
This is a very basic way of looking at the search, but for those more integrated into the classical music sphere, it looks like you can search by Composer, Occupation, Conductor, Catalog number, and more. If you want to go deeper, then there is a Twitter thread from the user Jessie Char.
As a classically trained cellist, composer, former Apple employee, and CEO of a design studio specializing in icon and UI design, I'm ~uniquely qualified to comment on the Apple Music Classical app.March 11, 2023
See more
This is one of the main areas Apple Music is looking to make classical music listening easier, and give classical music fans something to get excited about. After all, the last app to have this feature was PrimePhonic, which Apple shut down as quickly as it bought the service in 2021. Since then, the feature has been gone.
Apple Music Classical: Streaming bandwidth and music quality
You won't find more discerning music fans than classical music fans, so your streams must be top-notch. Apple Music Classical looks as good as can be, with support for Apple Music Lossless and higher 24bit 192kHz bitrates. This will please some audiophiles, especially since you still don't have to pay extra for the privilege.
Spatial Audio is also coming to Apple Music Classical, so you'll really feel like you're in the middle of the orchestra as they play your favorite tracks. It only works with supported headphones mind you, and for best results, you'll probably need a pair of AirPods. For those super high bitrate tracks, you might also need an external DAC, so if you're serious about those, it might be worth checking out best DACs for iPhone.
Apple Music Classical: What it will look like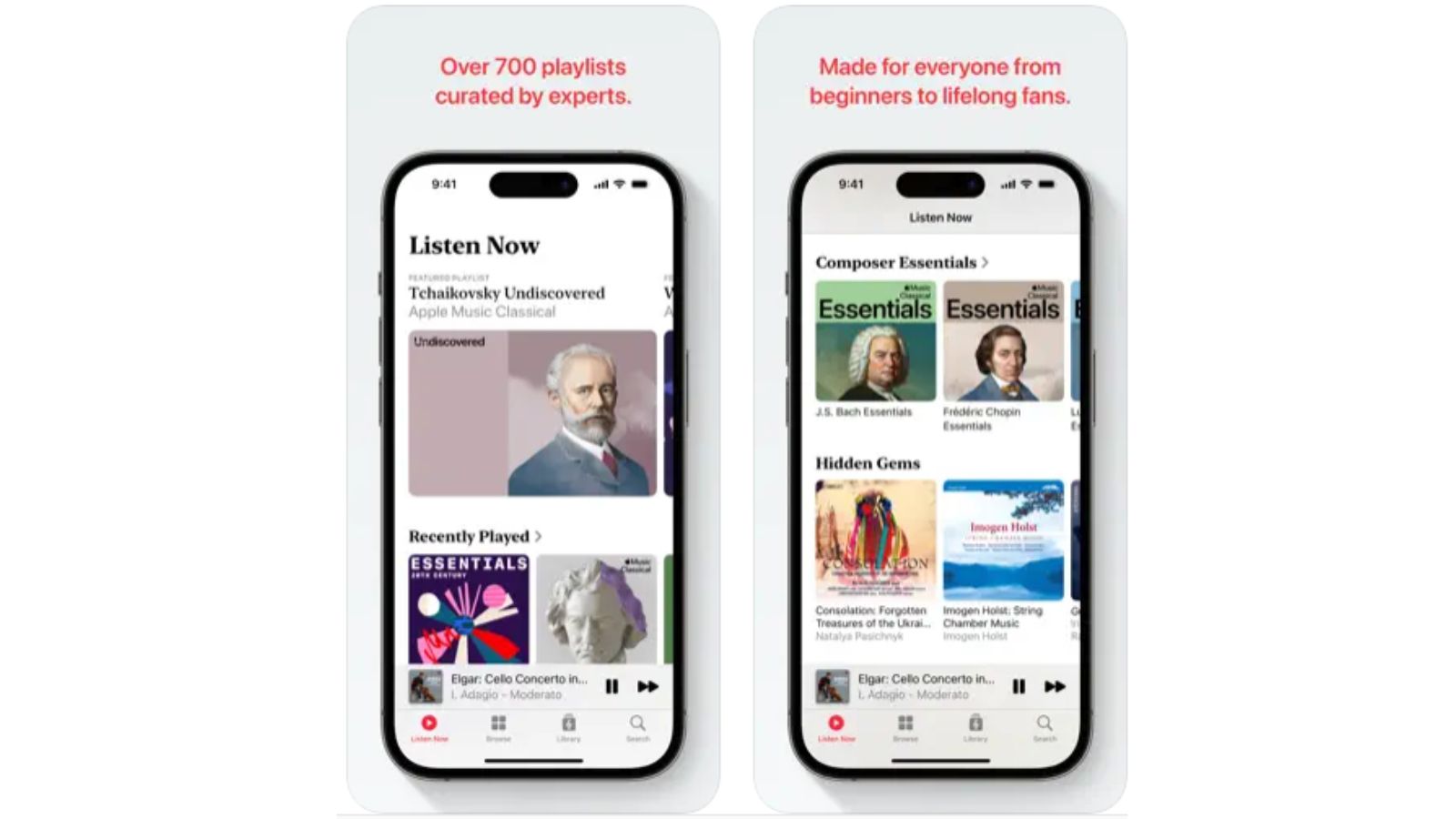 It will look like Apple Music, albeit with nothing but classical music. There will be no radio panel, and the now playing screen will feature an info tab instead of lyrics.
That information will go deep into composer and conductor bios, as well as detailed descriptions of the piece you're listening to. If you're looking to learn more about the classical music you love, this is a nice touch.
It will also be a separate app from Apple Music, and there are concerns from some that this could mean that Classical music is removed from the main Apple Music app. Hopefully, this won't happen, because Apple Music could make a great gateway to classical music. To remove it is to separate the library completely so that people who don't listen to classical music normally and without the app may not discover classical music, which seems not only a mistake but a blow to the discovery of music as a whole.
Apple Music Classical: That logo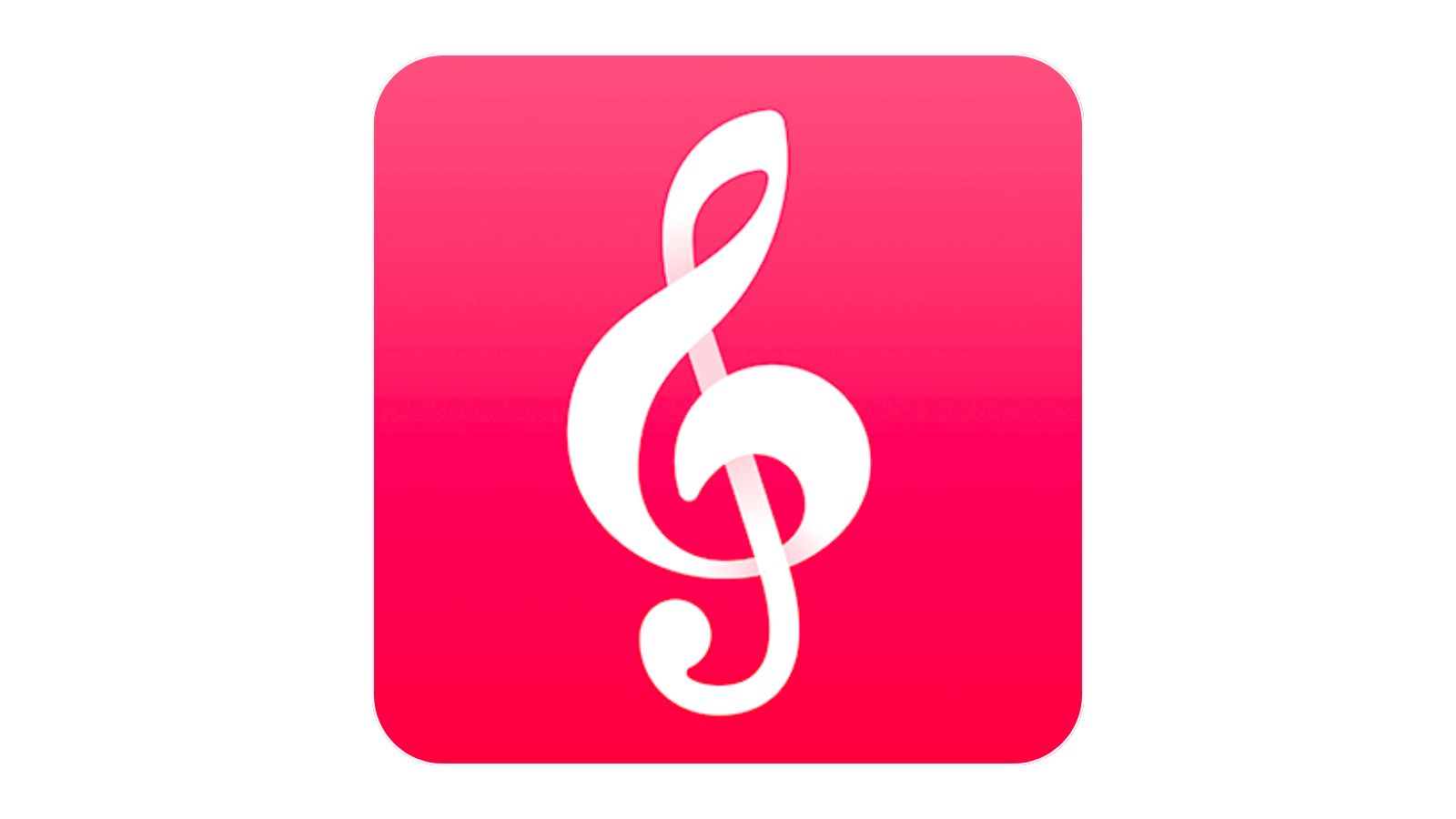 It's a treble clef! We at iMore love the logo, but there are some on Twitter and other places that aren't such big fans. Either way, this is the way Apple Music Classical will look on our home screens for some time, so we better get used to it.
Apple Music Classical: What we didn't know
One of the biggest ways PrimePhonic has shaken up the classical music streaming world is the way it pays its artists. The way it works in traditional streaming, for the most part, is that an artist gets paid for a certain percentage of a track being played. That might be twenty percent, for example, of what an artist gets paid, for a four-minute song, every time someone hits the 48-second mark. For traditional streaming and normal length pop songs, it works fine. For classical music, not so much.
Classical Music tracks can last upwards of an hour sometimes, and to get paid for a stream of that track, a listener has to get to the twelve minute point. That takes longer for listeners to listen. The way PrimePhonic works, however, makes more sense for classical music. Artists are paid, instead, by the amount of time listened to. So on that one-hour track, you can get paid per minute. That way, even if there's a very long job, you'll still get paid, even if someone skips before the end of the track.
Apple Music Classical has yet to announce anything like this for the new app, so it's good to know if it's coming to the app. In the meantime, we're excited to dive deep into the new app and listen to all our favorite pieces on Apple Music Classical.