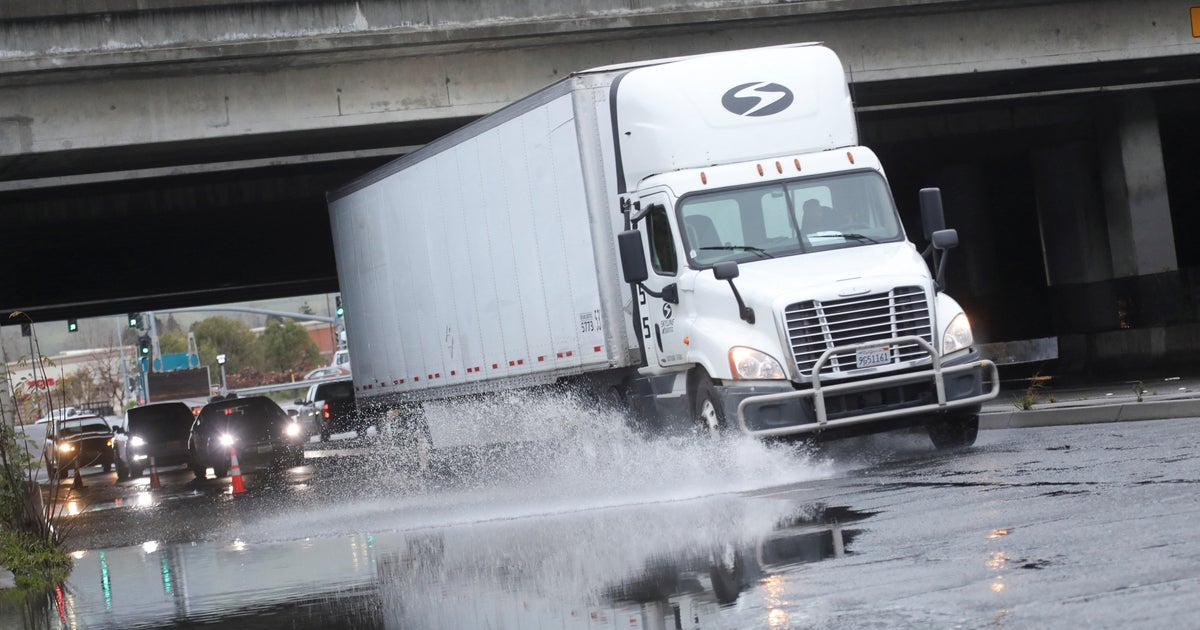 A new storm system hit Northern California on Friday with heavy rain, threatening millions dangerous flood conditions as the snow melts from previous storms. Flood warnings have been issued by the National Weather Service for areas around San Francisco Bay, the central coast and the Sacramento and San Joaquin valleys. In general, less rain was seen in Southern California.
The atmospheric riverknown as a "Pineapple Express" because it brought warm subtropical moisture across the Pacific from near Hawaii, was melting the lower part of the huge snowpack built up in the California mountains by nine atmospheric rivers in the first part of the winter and later storms fueled by a burst of arctic air.
The snowpack at high elevations is so large it is expected to be able to absorb rain, but snowmelt is expected at elevations below 4,000 feet, forecasters said.
As the typhoon approaches, Gov. Gavin Newsom states of emergency in 21 counties in addition to earlier declarations for 13 counties. President Biden on Friday approved Newsom's request for an emergency declaration to authorize federal aid.
The California Department of Water Resources has also activated its flood operations center.
Evacuation warnings were issued early for various foothill and mountain communities prone to flooding and mudslides. An evacuation order was put in place for a small number of central coast residents living below a levee near Oceano in San Luis Obispo County.
Water releases for flood control purposes are underway or planned for some reservoirs that have been depleted during three years of drought and filled by unusual winter rainfall and snowfall.
Releases were scheduled to begin late Friday morning from the state's second-largest reservoir, Lake Oroville, which draws water from the Feather River in the western foothills of the Sierra Nevada in the northern Sacramento Valley.
The lake level has risen about 178 feet since Dec. 1. Drains are intended to ensure there is room for heavy runoff.
Ted Craddock, deputy director of the State Water Project, on Thursday expressed confidence in the 1960s-era Oroville Dam, where thousands of people were forced to evacuate in 2017 after heavy runoff collapsed the main spillway and the emergency spillway began to fail. .
"The spillway has been reconstructed to modern standards, and we are very confident that it will handle the flows coming into Lake Oroville," he said.
Forecasters warned that mountain travel could be difficult to impossible during the latest storm. At higher elevations, the storm is predicted to dump heavy snow, up to 8 feet over several days.
The snowpack of California's Sierra Nevada, which provides about a third of the state's water supply, was more than 180% of average on April 1, when it was at an all-time high.
Another atmospheric river is in the forecast for early next week. State climatologist Michael Anderson said a third appears to be taking shape in the Pacific and possibly a fourth.
California appears to be "well into its fourth year of drought" ahead of the early series of winter storms, Anderson said. "We're in a very different situation now," he said.
So much snow has fallen in the Sierra and other mountain ranges that residents are still struggling to dig out days after earlier storms.
In the San Bernardino Mountains east of Los Angeles, a storm in late February reached blizzard status. Roofs collapsed, cars were buried and roads were blocked.
This week, firefighter-paramedics began delivering prescription drugs to residents still unable to leave their homes, said Fire Capt. Steve Concialdi, a San Bernardino County emergency response spokesman.
On the far north coast, Humboldt County authorities organized an emergency response to feed starving cows stranded by snow.
Cal Fire and US Coast Guard helicopters started dropping hay bales on cows in remote mountains last weekend, and then called in the California National Guard to expand the effort.
"We've had some unprecedented weather in the last two weeks and we've received multiple reports of cattle dying because ranchers can't get to their cattle because of impassable roads," said Sheriff William Honsall. "These cows are an economic driver, they are hungry and they are calving now. So all these things require some drastic measures."