Microsoft Word remains the standard way to create and share text documents, whether you are in a corporate or educational organization. In recent years, it has certainly loosened its grip on the likes of Google Docs, but in many cases Word is the preferred or expected software to use. There's just one problem with that: it's not free. So, if you don't want to add another monthly charge to your account, how can you still use the software without shelling out? Here's how to get Microsoft Word on your Mac for free, along with various paid versions and some useful alternatives.
How to use Microsoft Word for free on the web
Microsoft offers completely free versions of Word, Excel and PowerPoint, all of which you can access online here Microsoft 365 hub. You will need a Microsoft account, but these are free and you may find that you already have a Hotmail or Outlook account that you created in the past. If you don't, they will only take a few minutes to do.
Once this is done, you are free to access different apps and use them in your browser. It used to be called Office.com but Microsoft has now moved it to Microsoft 365 to keep it in line with its other productivity software.
It's true that you don't get the full range of tools that the paid versions of Word, Excel and PowerPoint have, and you have to save documents to OneDrive, but if you just need a word processor that can accurately create and handle of .docx file types, this is an easy way to get it for free.
How to get a paid version of Microsoft Word
If you need the full range of tools that Word offers, not to mention the ability to work offline and save files to other folders or online storage services, you'll need to pay. There are two routes open to you: one-off payment, or a subscription.
We already pay a lot of things each month, so the idea of ​​adding another bill to the list may not appeal. Fortunately, you don't have to, because Microsoft still offers a one-and-done approach to purchasing Word. It's not cheap, however, as the in-app purchase will set you back $159.99/£149.99although there are no further payments afterwards.
The best option in our opinion, as long as you don't mind signing up to another service, is the Microsoft 365 subscription. With this you not only get Word, but also Excel, PowerPoint, OneNote, Outlook and 1TB of OneDrive storage. Microsoft keeps you on the latest version of apps at all times, so you never have to deal with outdated software or miss out on new features.
For a one-year Microsoft 365 Personal subscription you can pay in advance, which costs $69.99/£59.99or $6.99/£5.99 per month, which allows one account to use Office apps on up to five devices, including an iPad.
If you want more accounts, there is the Microsoft 365 Family tier which allows 2-6 people to use the service and increases storage up to 6TB. It's worth it $99.99/£79.99 p/a £7.99 p/m.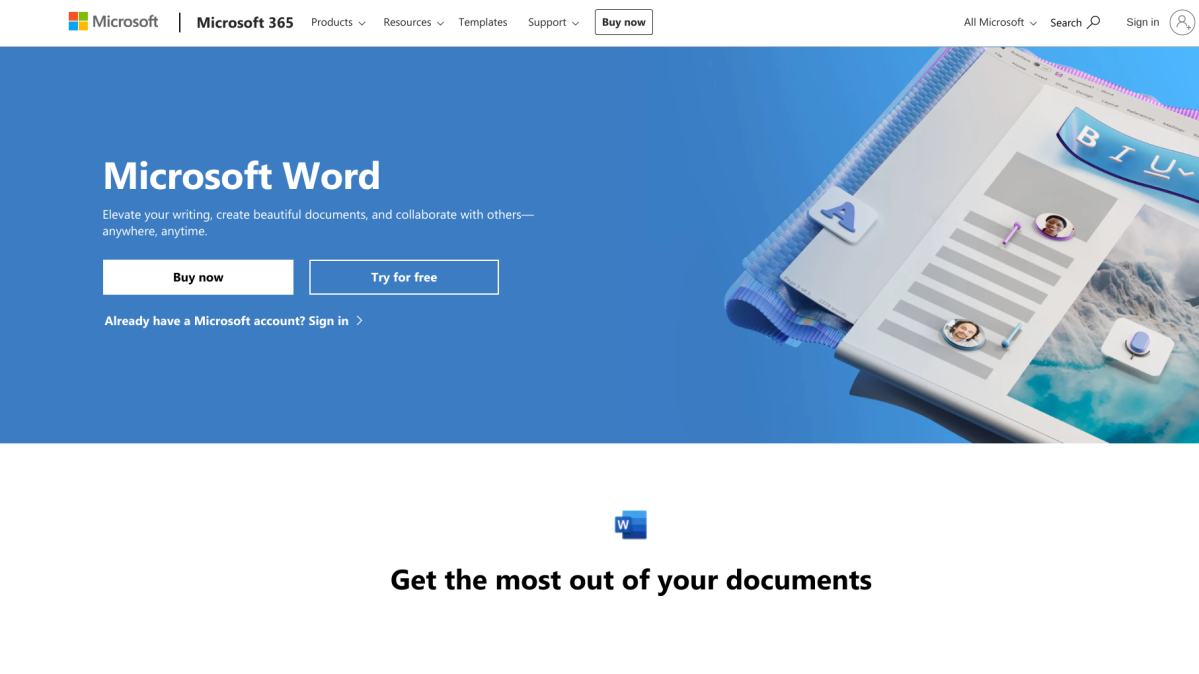 Microsoft
If you want to give the Office apps a try before committing to a subscription, there are those, too 30-day free trial.
To see how the subscription version compares to the purchased version, see our Microsoft 365 vs Office 2021 buying guide.
Beware of scams and hacks
It takes about 30 seconds to find YouTube videos that will show you how to download, install and run Word (along with all other MS Office software) on your Mac without fee. If the instructions are similar to those in this article, you should be fine, but many of the ones we've seen require some sort of serial code-cracking program to be purchased and downloaded to your machine. While this may seem like a victimless crime to some–Microsoft is a multi-billion dollar company while the user is just a single person with no money–the real victim is most likely you.
It's true that some hackers are nice, just want to release information so that anyone can use it, but unfortunately, others are definitely not. Downloading and installing things like this on your Mac is one of the easiest ways to contract malware or spyware software that can wreak havoc with your data. That's apart from the fact that you're infringing copyright, which is a bit naughty.
Our advice is to carefully avoid these 'free' routes to Word.
Free alternatives to Microsoft Word
Unless you specifically need Microsoft Word, you'll find that there are plenty of great word processors out there that won't cost you a cent. Any new Mac comes with a free Apple copy Pages software, which is a very powerful tool for creating and editing documents, and it also works well with its iOS/iPadOS counterpart app.
Google Docs is a perennial favorite because the web-based software is free and easy to use. You won't find incredibly advanced features like in full Microsoft Word, but for most people it's all they'll need.
LibreOffice Writer is another one that is always worth checking out. The open-source software is completely free and still offers a complete solution for those who want the functionality of MS Word. Yes, it's not the smooth and aesthetically pleasing experience of its inspiration, but you can do so much with Writer that you don't care.
For gathering other options, see our Best Mac word processor saving.