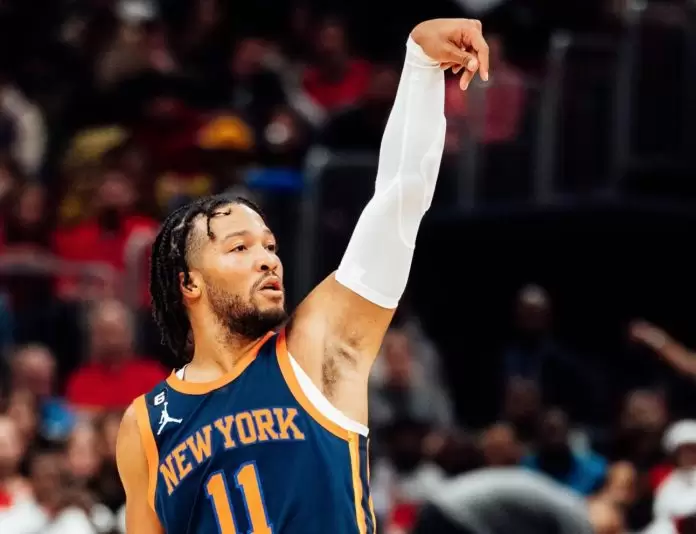 Their counterpart on Sunday night in the Los Angeles Lakers, despite the loss, saw significant progress around their centerpiece LeBron James, who now appears on the sidelines and moves well without a walking boot on his injured foot.
But for the New York Knicks, it seems that their scenario with Jalen Brunson is not pleasant.
Brunson supported his Knicks team on the sidelines in street clothes, but was seen wearing a walking boot covering his injured left foot.
While he was listed as out on a day-to-day basis with x-ray results showing he did not sustain a major injury, Brunson's return still has no timetable per coach Tom Thibodeau.
"Just continue his treatments and we'll see where he is. When he's ready to go, he's ready to go," Thibodeau said following the Knicks' 112-108 win over the Lakers. each Peter Botte of the New York Post. "Jalen is not alone. This is Jalen with the medic. So he has something to say here, but he needs to be cleared medically. So there are a number of people involved in a decision. We will not put him in harm's way.
"So if he is cleared and he feels good, he will play. And if he needs more time, he's going to get more time and not just Jalen, all of our players."
Brunson suffered his injury in the Knicks' loss against the Sacramento Kings where he was announced to leave early in the game. His appearance against the Kings marked his return from a two-game absence with a sore left foot.
With that said, Brunson's wearing of a walking boot is cryptic enough to offer clues that his left foot is in need of adequate healing.
With their win over the Lakers, the Knicks now have a 7-7 record without Brunson being activated to play. While this seems fair since they were able to split the matchups with their main floor general, the club will certainly be hoping that he will be available soon.
Right now, the Knicks are leaning on the production of their Sixth Man candidate, Immanuel Quickley, who is doing a satisfying job so far as Brunson's replacement.
New York exits California sitting in sixth place in the Eastern Conference with a 40-30 record. They will look to regain the top-five slate at the end of their four-game road trip against the Portland Trail Blazers this Tuesday.