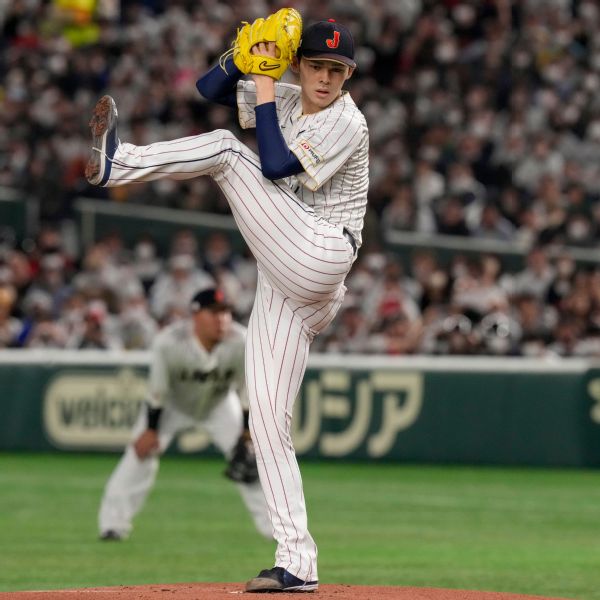 TOKYO — Shohei Ohtani had another RBI double, 21-year-old right-hander Roki Sasaki hit 100 mph 21 times on 66 pitches and Japan defeated the Czech Republic 10-2 on Saturday night to clinch the quarterfinals berth in the World Baseball Classic.
Shugo Maki hit his second home run of the tournament and new Boston Red Sox outfielder Masataka Yoshida had three RBIs, including a go-ahead, two-run double in the third inning off losing pitcher Ondrej Satoria as the Samurai Warriors overcame a 1-0 deficit.
Ohtani went 1-for-3 with a walk in front of a crowd of 41,637 at the Tokyo Dome, leaving for a pinch hitter in the eighth inning. He was 5-for-10 with 3 doubles, 4 RBIs and 5 walks for Japan (3-0), which has one more group game and will host a quarterfinal on Wednesday or Thursday. He also pitched four scoreless innings.
Sasaki struck out eight in 3⅔ innings, and earned the win. He allowed one unearned run, two hits and two walks.
Sasaki threw the 16th perfect game in Japanese major league history in April, then pitched eight perfect innings in his next start before being pulled after 102 pitches. He went 9-2 with a 2.02 ERA for the Chiba Lotte Marines of the Pacific League last year, striking out 173 in 129⅓ innings.
In the opener, Rixon Wingrove had four RBIs as Australia (2-0) cruised to a 12-2 rout of China (0-3) in a game shortened to seven innings by the 10-run mercy rule.
In Group B in Taichung, Panama (2-2) won 2-0 against Italy (1-2) and host Taiwan played the Netherlands.