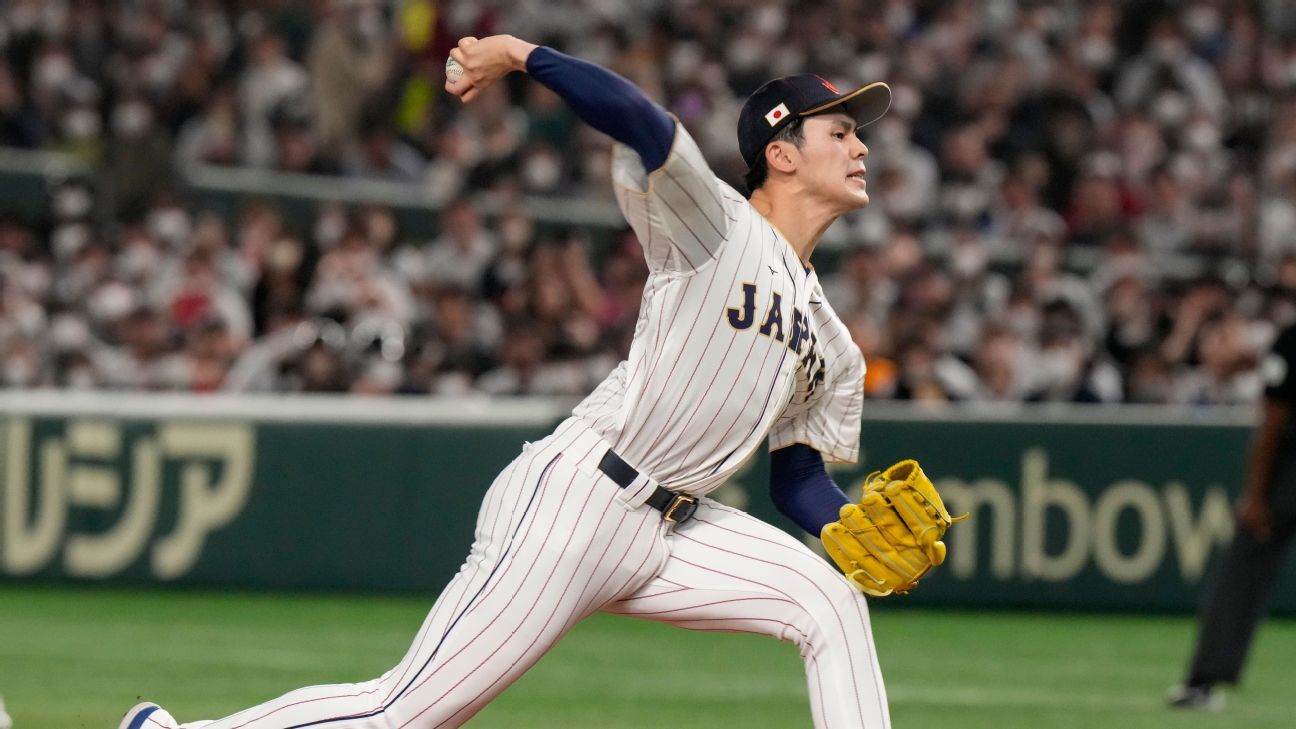 A painful World Baseball Classic experience had a sweet ending for William Escala — thanks to an unexpected visit from Japanese phenom Roki Sasaki.
Two days after plunking Escala with a 101 mph pitch, Sasaki apologized to the Czech Republic outfielder Monday morning and brought him two bags full of Japanese candy.
Sasaki, the emerging ace wow on his WBC debut, met Escala outside the Czech team hotel in Tokyo and also signed a baseball for him. Sasaki, 21, follows the Japanese tradition of giving a gift after hitting a batter.
As an apology for hitting him with a pitch, Team Japan pitcher Roki Sasaki presented Team Czech Republic's William Escala with two giant bags of candy.

You must love the #WorldBaseballClassic. https://t.co/WDqQBtUiFD

— World Baseball Classic (@WBCBaseball) March 13, 2023
"He gave me some goodies, and a bunch of different candies and things like that," Escala said. "And then I asked him if he could sign the ball as a memory for me. Something I will keep. Very cool. Something I'll cherish and never forget."
"That was a wow moment," Czech captain Petr Zyma told MLB.com. "Japanese culture never ceases to amaze me every day we are here. They take it to another level as a superstar Roki; he takes the time to ride the bus, meet Escala, send us a bunch of candy and signed a ball for Willie. It was a big sign of respect."
Czech manager Pavel Chadim echoed Zyma's sentiments, telling MLB.com that Sasaki's gesture "reminded me that baseball is not just war or a business, but a gentleman's sport. "
Later, Chadim told reporters that Sasaki's apology was "an encouraging thing and it touched us."
"It gives us a big boost of energy," Chadim said after the Czech Republic's 8-3 loss to Australia. "I want to thank Japan again."
Sasaki had eight strikeouts in 3⅔ innings in Saturday's 10-2 win over the Czechs, allowing one unearned run while topping 100 mph on 21 of his 66 pitches. One of those fastballs — officially clocked at 100.9 mph — hit Escala in his left knee in the fourth inning.
Escala crawled to his hands and knees after being hit, rolled onto his back, grabbed his left leg and screamed. He stayed in the game, however, until being replaced for a pinch hitter in the ninth inning.
Sasaki was removed from the game one batter later and handed his cap — another sign of respect in Japanese baseball culture — to Escala as he walked off the field at the Tokyo Dome.
Behind a star-studded roster that also features major league stars Shohei Ohtani and Yu DarvishJapanese went 4-0 in Group B play and and will face Italy in the WBC quarterfinals on Wednesday.
Sasaki threw the 16th perfect game in Japanese major league history in April, then pitched eight perfect innings in his next start before being pulled after 102 pitches. He went 9-2 with a 2.02 ERA for the Chiba Lotte Marines of the Pacific League last season, striking out 173 in 129⅓ innings.
Information from The Associated Press was used in this report.