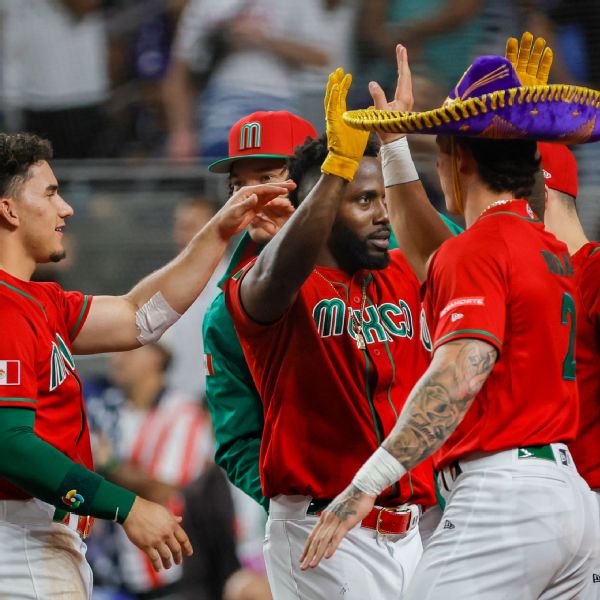 MIAMI — They rallied back, erasing an early four-run deficit, but if Mexico is going to advance to its first World Baseball Classic semifinal and eliminate a star-studded Puerto Rico team, one more big game will be needed.
Randy Arozarenaof course, it was delivered.
Clinging to a one-run lead in the eighth inning of Friday night's quarterfinal matchup, Arozarena sprinted near the left-center-field fence and made an improbable leaping chase against it, erasing what would have been the game-tying extra. -base hit and help Mexico, his adopted country of birth, hold on for a 5-4 victory in front of a capacity crowd at LoanDepot Park.
Arozarena became a household name while dominating throughout the 2020 postseason. When his Tampa Bay Rays reached the World Series, he gave up three home runs. Arozarena recalled late Friday night and was asked to identify his best moment on a baseball field.
"2023, World Baseball Classic, eighth inning, that catch," he said in Spanish, drawing laughs from a packed interview room.
Arozarena, 28, was born and raised in Cuba. He left the island in 2015 and arrived in Mexico, where he played winter ball, had a daughter and fell in love with his new home. He became a Mexican citizen in April of last year simply because he wanted to represent the country in this World Baseball Classic — and he made the most of it.
Arozarena was Pool C's MVP, going 7-for-14 while driving in nine runs and scoring six others as Mexico won three of its four games. Then he made the biggest play in arguably the biggest game in Mexican baseball history, sending Mexico into a semifinal matchup against powerhouse Japan on Monday.
"I feel incredible," Arozarena said. "I've had some incredible moments for my career."
Puerto Rico, playing in the condition of Edwin DiazA painful knee injury, jumped out to a 4-0 lead in the first inning against the Mexican ace Julio Uriasthe back and forth runs from Javier Baez and Eddie Rosario. But Puerto Rico didn't muster much offense the rest of the way, and Mexico finally bridged the gap while going down its final seven outs.
Alexis Diaz into his brother's famous walk-out song, "Narco," but proceeded to load the bases with nobody out, giving up a double in Austin Barnes and back-to-back walks to Arozarena and Alex Verdugo. Jorge Lopez came out of the bullpen to record two quick outs. But Isaac Paredes lined a two-run single to left field and Luis Urias threw a base hit into shallow right, giving Mexico its first lead of the game.
Edwin Diaz, who tore the patellar tendon in his right knee during Puerto Rico's on-field celebration following its win over the Dominican Republic on Wednesday night, reached out to Alexis after the game to tell him he was coming through in similar situations in 2019. He told her to block out all the outside noise and to keep believing in herself.
"It's been really painful for me," Alexis Diaz, seemingly on the verge of tears, said of not having his brother with him. "I wish we were both together in the Classic. Not having him here was really hard for me. But I'm a warrior and I went out there. I couldn't do what I wanted, but I'm going to continue this season."
Puerto Rico had a chance to avenge Diaz and tie the game in the next inning, with runners on first and Emmanuel Rivera uncorking a deep drive to left-center field. But Arozarena, who has wowed fans with his play and dazzled his teammates in his cowboy boots this tournament, won't have it. After he made the catch and threw the baseball back into the infield, Arozarena sat on the warning track and stretched his arms wide, palms out and his mouth open, another signature pose from the Cuban-born outfielder. who fell in love with Mexico.
Mexican manager Benji Gil said: "He's a kid who's incredibly focused on doing everything he can to help this family of Mexican fighters have a chance to play for a world championship."