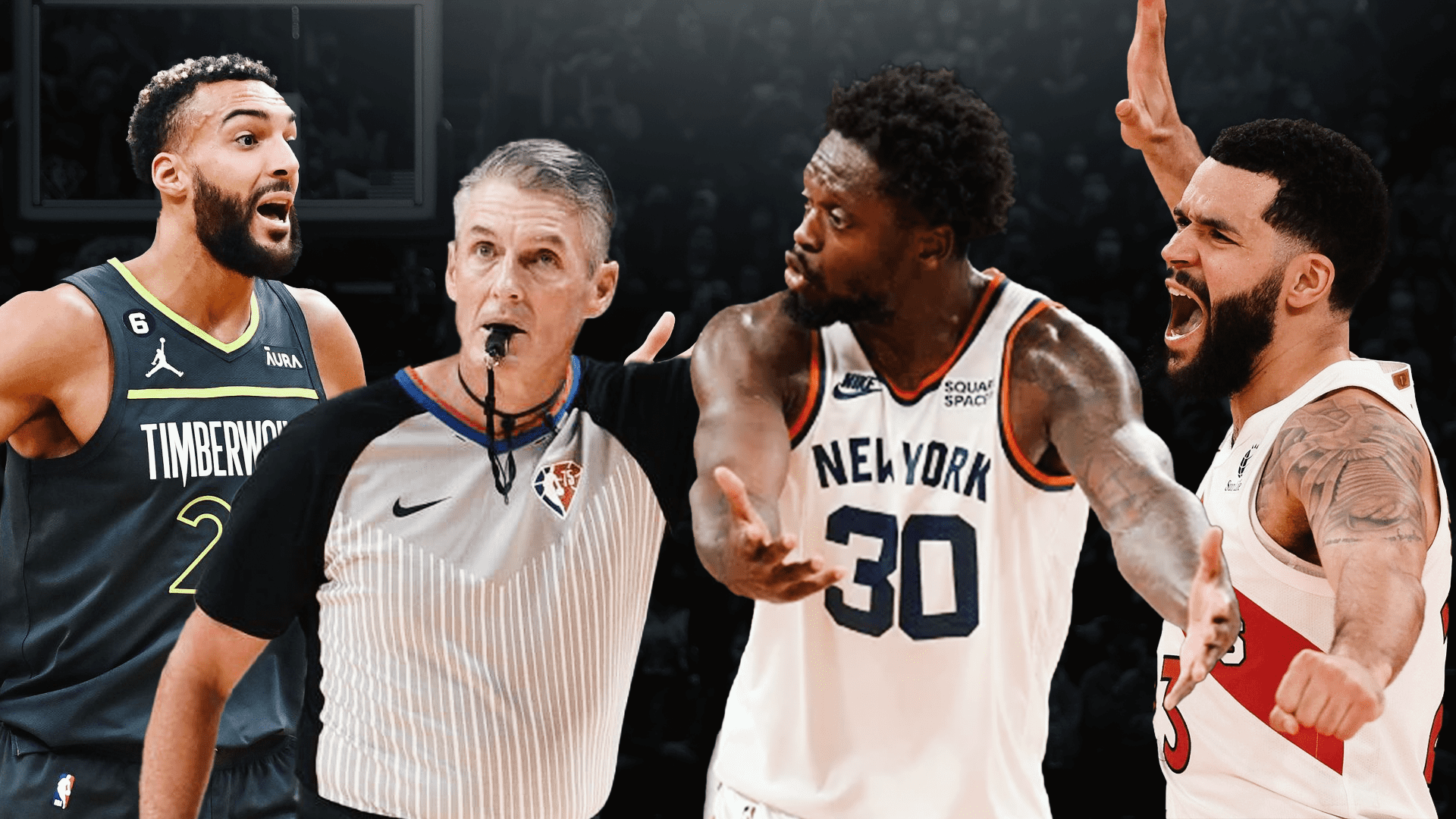 We've seen some big explosions in NBA reffing this season and it's definitely reaching a boiling point.
From the perspective of the players, the situation has become very dire that they have called for the referees to be fined for their bad call.
The latest criticism of refereeing came yesterday when the Timberwolves fell to the Celtics 104-102 and Rudy Gobert called out the refs for their disrespect in the postgame.
"Sometimes, we have a feeling that the things that upset players and people in general, is that we feel like we're not being treated with integrity. And that's when it becomes difficult to keep your cool," Gobert said The Athletic.
"I get hit in the face every night and I'm not fooling around. It's crazy. Tonight is all about things happening at once. I have to watch the game and see if I'm crazy or not."
Minnesota forward Kyle Anderson posted on his Instagram story after he was ejected in the final seconds: "Never been one to harp on officiating but got damn."
Draymond Green picked up his 16th tech foul yesterday in the Warriors' loss to the Clippers and while he's a serial tech-artist, he doesn't think his number should be that high.
"I hope something changes," Green said. "I got a tech this year because a ref yelled at me and I said, 'If I yell at you, I get fined.' I got a tech for it. So, I think something is going to change. If that's a tech, then every word you say in court is a tech. We'll see."
On Saturday, Julius Randle lost a bit of consciousness after getting a tech for elbowing Clippers center Mason Plumlee and had to be restrained by his coach.
"I mean, I didn't look good today. I am bad. But the officers now? Pssh. I'll just leave it at that," Randle said after the game. "All you have to do is watch the game and see what you see happening."
Fred Van Vleet really tore into the refs last week with a great speech after the Raptors' 108-100 loss to the Los Angeles Clippers.
VanVleet said a technical foul called against him by Ben Taylor "changed the entire flow of the game" and he was fined $30k for his comments.
"Most of my techs this year were with Ben Taylor officiating. So at a certain point as a player, you feel like it's personal and it's not a good place to be," VanVleet said.
"I'll get my fine for talking about it but it's fu*king ridiculous."
Van Vleet is not the type of man to speak out of himself, so when he says something, things must be bad.
"I wouldn't have done that if I felt like I had another option or another outlet," VanVleet explained the next day. "I feel like I've exhausted my options this season on a lot of different occasions."
In January of this season, Pat Beverley even took the photographer's camera onto the court to show the refs that they got the call wrong in the Lakers game, that they should have won on LeBron James' drive but there was no foul. called in the dying seconds.
Referee crew chief Eric Lewis even admitted after the game that it was a blown call.
PAT BEV BROUGHT A WHOLE ASS CAMERA TO SHOW THE INCOMPETENT NBA REFS THEY MISSED THE FOUL CALL FOR LEBRON 😭😭😭 THEY GAVE TECH LMAOOOO FIX YOUR LEAGUE. @NBA

— LakeShowYo (@LakeShowYo) January 29, 2023
Things seem to have reached an almost unprecedented level but just last month, NBA commissioner Adam Silver said the officials will be "fully held accountable" despite the public not knowing their punishments.
"We do not publicize discipline for officers. We don't think it would be appropriate. But their assignments are affected by the quality of their calls, whether or not they advance in the playoffs and then round by round is affected by the accuracy of their calls and their demeanor on the floor.
With the playoffs right around the corner, things are likely to get even more heated between NBA officials and players.
Watch this space.