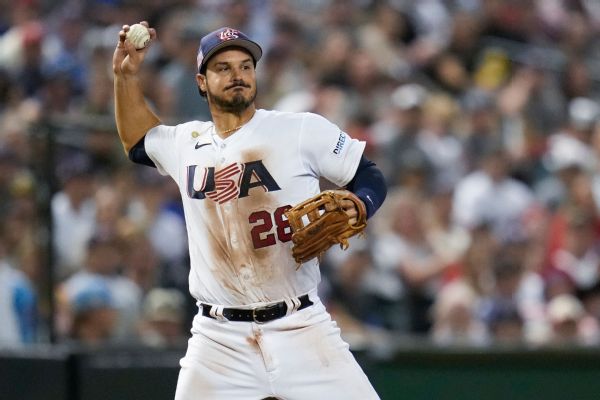 PHOENIX — Playing for Team USA again in the World Baseball Classic was never a question for the third baseman Nolan Arenado. After helping the US win the tournament in 2017, he wants a chance to defend that title.
He started well.
Arenado, 31, had three hits and several highlight-reel defensive plays in the team's opening win, a 6-2 victory over Great Britain on Saturday night. He set the tone after the US went down 1-0.
"The intensity with which he was working before the game was, honestly — I'm not sugarcoating it — like I've never seen," Team USA manager Mark DeRosa said after the game. "He's intense with ground balls. He's intense with his cage work."
Arenado's pregame routine was definitely disrupted by the length of last Saturday's contest between Colombia and Mexico. This is one of the things he learned while playing in the tournament in 2017. You have to be able to adjust on the fly.
"We're taking ground balls in the outfield now," Arenado said. "I haven't taken ground balls in the outfield since I was in Little League. While I was doing it, I made sure to focus and do it the right way. It prepared me. I was ready to go."
The same can be said about Arenado at the plate, after the team was unable to practice hitting in the field. He went through his routine again, then a few hours later, he doubled in the tying run in the second inning before scoring the go-ahead run moments later.
He added another double and a single and also made some on-the-run throws with his body toward first base.
"I played with some good fielders," said Adam Wainwright, Arenado's Cardinals teammate and Saturday's starter. "I don't know if I've ever played with somebody behind me like that. I played with the best defensive catcher of all time and Scott Rolen was at third base. Not a shot at him, but Nolan Arenado was a special, special player I don't know if you can compare him to."
Even with Arenado's heroics, the game was tight until the end Kyle Schwarber launched a ball to right-field meaning a three-run home run in the fourth inning. It fired up the pro-US crowd as Schwarber gave it a salute as he rounded the bases.
"That's going to be our little celebration for us this year," Schwarber said. "Also back to a little tribute to our men and women."
DeRosa admitted that his players needed to settle down a bit with many playing in their first WBC game. They quickly found their footing, proving to be the favorites coming out of the preliminary round games in Arizona.
The US will play Mexico on Sunday after being upset by Colombia.
"A good first day," DeRosa said. "I just think for a lot of us, and the coaches included, was a chance for us to — I don't want to say knock the cobwebs off — but a chance for us to kind of experience it (the intensity) our own."