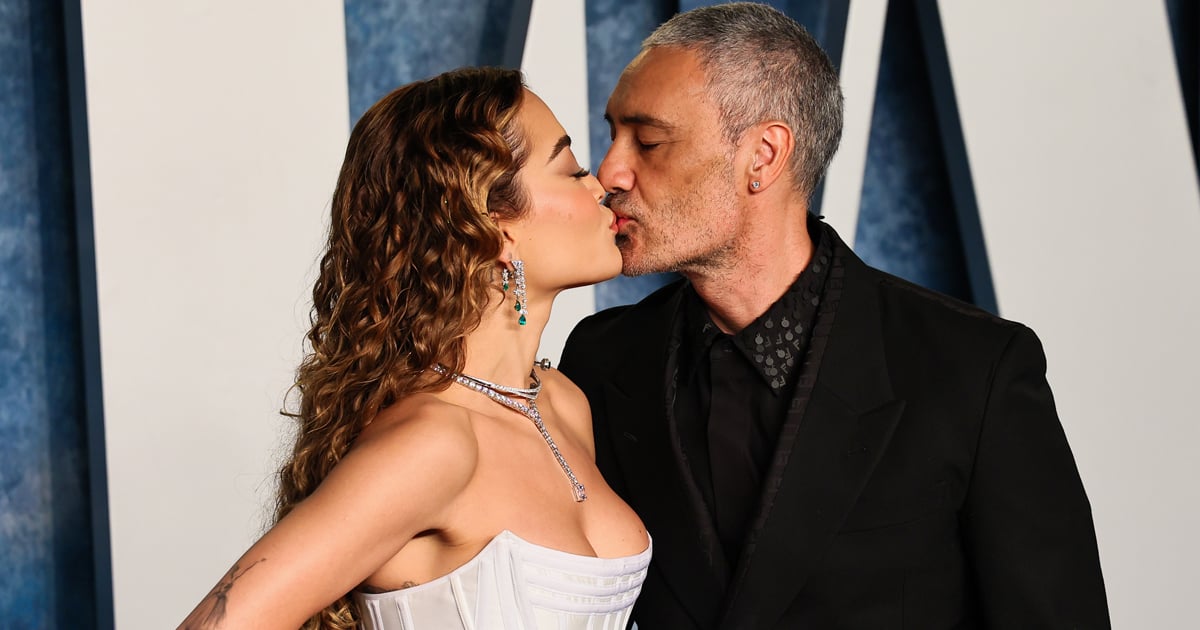 The 2023 Oscars red carpet is packed celebrity couples showing PDA, and Taika Waititi and Rita Ora kept the romance alive at the Vanity Fair afterparty. Following the Academy Awards on March 12, Ora and Waititi, who confirmed the news of their marriage in January, walked hand in hand on the carpet. In between snaps of the couple looking like award-show royalty, Waititi and Ora lean in to share a romantic kiss.
As the couple posed for the cameras, they couldn't take their eyes off each other. Feeling the love, Waititi followed their sweet kiss on the lips with kisses on either side of Ora's cheeks. With a kiss, Ora placed her hand on her hip and playfully rolled her eyes at her husband's romantic behavior. When they weren't gazing into each other's eyes and exchanging kisses, Waititi and Ora did their best to look serious. In true form, however, Waititi struck some interesting poses that made Ora laugh.
Before they left the red carpet, Ora stepped aside for a few solo photos in her white cutout corset gown that looked like a wedding dress. As he stands by his mark, Waititi closely admires his wife.
Ora and Waititi first their relationship became public in April 2021. The couple made several red-carpet appearances together, preferring to keep their relationship out of the spotlight. Although their honeymoon phase is still in full swing, it's nice to see the couple enjoying a date night.