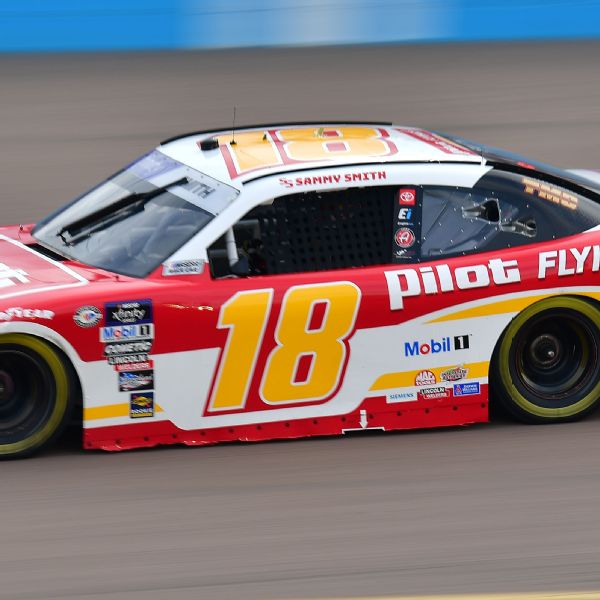 AVONDALE, Ariz. — Sammy Smith won the Xfinity Series race at Phoenix Raceway on Saturday, the first victory for the 18-year-old high school student who is taking classes online to become a full-time driver.
Making his 13th start in the past two years for Joe Gibbs Racing, Smith led the final 52 laps and held off the Cup Series star Kyle Busch in two restarts to take the checkered flag for the first time in a NASCAR national series event.
"It's amazing. It's a dream come true," said Smith. "It's awesome."
Ryan Truex then second, followed by Sheldon Creed, Riley Herbst and Chandler Smith. Busch was second following the final restart with 15 laps to go, but he made contact with Chandler Smith on the final lap and ended up ninth.
Sammy Smith put JGR in Victory Lane at Phoenix for the 16th time in the second-tier series and the sixth year in a row — with six different drivers. Christopher Bell (2018), Busch (2019), Brandon Jones (2020), Daniel Hemric (2021) and Ty Gibbs (2022) previously celebrated on miles of desert track.
Smith also became the youngest Xfinity Series winner in Phoenix. He did so with relative ease, leading 92 of 200 laps in the United Rentals 200 and not facing any significant challenges down the stretch.
Busch briefly passed him following the restart with 24 laps remaining, but Smith quickly came back for good.
After driving nine races for Gibbs last year, Smith is now running a full record for JGR. He had to forgo his senior year of high school to do so.
Also in the event, Justin Allgaier failed to extend his streak of top-three finishes. The JR Motorsports driver crashed with 22 laps remaining when he made contact Kaz Grala and hit the wall outside. He finished 36th in a 38-car field.
It was a disappointing finish for Allgaier, who had won the first two stages of the race. He also finished third or better in four consecutive Xfinity Series races. He was third in the 2022 season finale at Phoenix, third at the 2023 opener at Daytona, third at Fontana and second last week at Vegas.