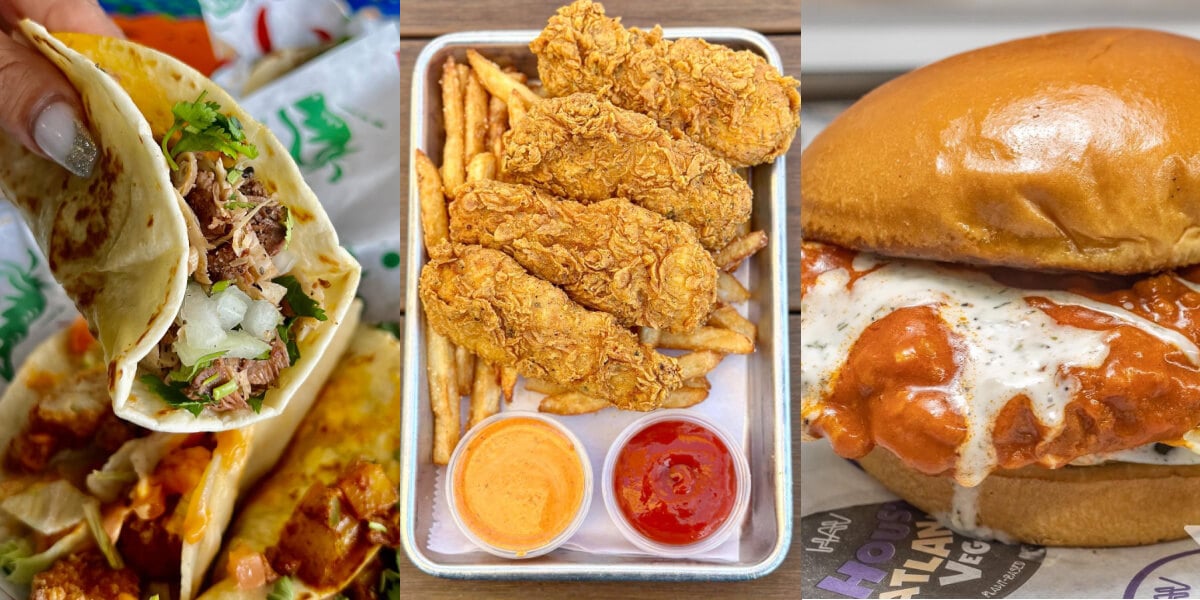 In anticipation of this year's March Madness Final Four—held in Houston—we've compiled a vegan food bracket to determine the best animal-friendly fare for watching the games. Whether you're coming in, watching from home, or looking to watch at a sports bar, places in this bracket offer tasty, enjoyable options that are better for the animals. Chicken, beef, pork, fish, and all other food animals want to live—they don't want to be part of your food. Fortunately, you can save a lot of money simply by choosing vegan food!
PETA's March Madness Final Four vegan food bracket is a slam dunk for animals—here are some great places to get your grub:
All your favorite game day foods can be found at this vegan eatery, like crispy Vegan Tenders, spicy Boneless Wyngs, smoky Jackfruit Brisket, and juicy burgers.
Houston's first vegan bakery has a variety of options on its rotating menu that will satisfy your sweet tooth. And the best part? They are all free from animal-derived ingredients, so you can treat yourself without contributing to the suffering of chickens, cows, bees, or any other animals. If you're not near a bakery storefront, you can find Sinfull's goodies at HEB, Whole Foods, and other locations in Texas. Out of state, you can order cookies and bars for nationwide shipping.
Lindiana began when founder Linda Hicks began recreating her son's favorite childhood foods into animal-friendly versions after she went vegan. Today, he serves meals to his soul The Pop Up Place, vegan becomes more people one delicious dish at a time. Order for takeout, or have your food delivered DoorDash.
For Mexican fare, head to Veegos to try animal-free meats in tacos, tostadas, nachos, burritos, and more.
The Hive serves a wide array of delicious salads, sandwiches, and burgers along with Cajun favorites like étoufée, boudin balls, po' boy sandwiches, and gumbo.
A taco platter and margarita are the perfect combination for watching your favorite team win at Cascabel. Beef, pork, chicken, and all other animals want to live, so don't touch them and choose options from places like Cascabel for their vegan meats.
To find some of the best vegan Cajun classics with a twist, head to Soul Food Vegan, where you can try jambalaya-infused Mardi Gras Nachos, "shrimp" and "sausage" étoufées, and even a pig-friendly double " bacon" burger with a sweet and savory Cajun glaze.
Vegan chain Loving Hut serves healthy, animal-friendly fare that combines Asian-inspired and American classics.
This food truck recently opened a brick-and-mortar location, where you can get comfort food without ingredients that harm animals.
Chili con queso, tacos, pupusas, and churros are just some of the delicious things you'll find at Apetito Vegan Grill.
Mo' Better Brews offers unique vegan brunch creations, like The Motown Monte, the Dilla Donut Sandwich, and Bootsy Bagels & Lox, along with a stacked dinner menu.
There's nothing like (vegan) Texas barbecue, so head straight to the Houston Sauce Pit for all your favorite smoked and delicious "meats," because animals are individuals, not ingredients.
Meek's Vegan Pizza is "the real MVP," serving up nondairy pies with every topping you can think of, from jerk "chicken" to seitan pepperoni.
This vegan food truck has loaded burgers, chicken-free sandwiches, tacos, desserts, and more to satisfy any craving you have.
Located in Downtown Houston, Your Pie is a classic pizza joint serving vegan options and craft beer. To make a vegan pie, choose white, wheat, or gluten-free dough. Then add vegan cheese and choose animal-friendly toppings, including plant-based sausage.
This restaurant and sports bar, with three locations in the metro Houston area, is a great place to watch the games while enjoying a meal and a refreshing drink. Choose from several vegan pizza options, an animal-free burger, a healthy veggie wrap, and several sides and appetizers.
Yard House is a nationwide sports bar chain with many vegan options, including Gardein wings, a Beyond Burger with vegan mozzarella, and vegan orange chicken.
You might have a hard time choosing among the 11 vegan burgers on Burganic Hub's menu, but you really can't go wrong. The restaurant also has several veggie patties to choose from, including the Beyond Burger, a black bean patty, a falafel burger, and a vegan crispy chicken patty.
At Good Dog, you can request a tofu dog with any of the regular items—just be sure to change any nonvegan topping options. For example, try avocado instead of cheese, vegan chili instead of chorizo ​​chili, or mustard or ketchup instead of mayo—and ask for a pretzel bun.
With multiple locations in the Houston area, Voodoo Donut is your go-to for donuts that aren't made with eggs stolen from chickens or milk stolen from cows.
---
Animals are individuals who experience fear, love, joy, and pain—just like us. The meat, egg, and dairy industries treat them like objects, but you can help just by being vegan. This not only helps protect the animals but it is better for the environment and your own health. So go vegan today and order a free vegan starter kit to help you make the transition:
Send Me a Free Vegan Starter Kit