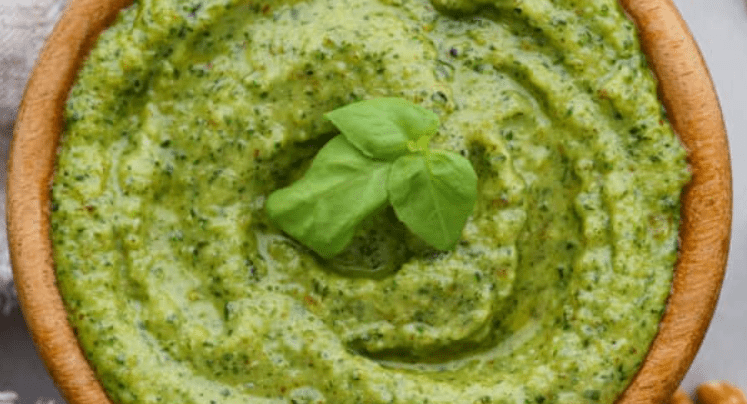 This website may contain affiliate links and advertising so that we can provide recipes to you. Read my privacy policy.
Move over, traditional basil pesto, there's a new peanut in town! Walnut pesto is the perfect combination of earthy, nutty goodness with just the right amount of zing. You wouldn't want it any other way. Spread it on chicken, toss it on pasta, or even eat it by the spoonful- no judgment here!
It's probably pretty clear by now that pesto is one of my favorite Italian foods. So earthy and flavorful! You can make it in many different ways and it goes well with tons of different foods. For starters, try this basil pesto o creamy pestoand then use it for these delicacies stuffed pork chops! This is one of my favorite recipes! If you want carbs, this 10 minute pesto pasta is another good choice.
Pesto Recipe with Walnuts
Walnut pesto is like a magic potion that transforms even the most boring meal into something exciting and delicious! It's a great transition from regular pesto because of its rich, nutty flavor. Whether you pour it on pasta, pour it on toast, or use it as a dip for vegetables or crostini, this versatile sauce never fails to impress. With its nutty, savory flavor and fresh herby aroma, walnut pesto is sure to delight your taste buds and put a smile on your face!
Good news is, it's very easy to do. All you need are a few ingredients – walnuts, garlic, basil, olive oil, and Parmesan cheese – and a blender or food processor. Just toss everything in, pulse until smooth, and bam! You have a batch of homemade walnut pesto ready to lift any dish. So go ahead and impress your friends and family with your Italian cooking skills! We won't tell them how easy it is to do.
Ingredients Needed
Walnut pesto can sound crazy, but it's made with simple ingredients you probably already have in your pantry! This combo of a few simple ingredients really packs a punch in the flavor department. You will love it! See recipe card below for exact measurements.
Fresh Basil leaves: These vibrant green leaves are the star of the show in walnut pesto, imparting a classic herb flavor. If you're running out of basil, you can also replace it with other leafy greens like arugula or spinach.
Walnuts: These crunchy kids add a rich, nutty flavor and creamy texture to pesto. It really is the best! Pistachios or almonds also work if you want a slightly different flavor!
Garlic cloves: Add a spicy, savory kick and depth of flavor to pesto. If you don't like raw garlic, you can try roasting it ahead of time to meld the flavor.
Parmesan cheese: Freshly grated works best! This salty, tangy cheese adds a delicious umami flavor and helps thicken the pesto. To make your pesto more traditional, try using pecorino romano.
Lemon juice: It adds a bright, tangy flavor to walnut pesto and helps balance the richness of the nuts and cheese.
Extra-Virgin Olive oil: Helps to combine all the ingredients properly.
Kosher Salt: Brings out flavor in all ingredients. Add to taste!
How to Make Walnut Pesto
Walnut pesto sauce is so easy to make, you can practically make it blindfolded! Just throw all the ingredients in a food processor and blend! From there, you have a nutty, creamy sauce that's perfect for pasta, pizza, sandwiches, and more.
mixture: Add the basil leaves to a food processor along with the walnuts, parmesan cheese, garlic cloves, lemon juice, and salt. Then pulse until the ingredients are finely chopped but not a paste.
Add Olive Oil, Mix Again: Remove the lid and slowly pour in half of the extra virgin olive oil and pulse the ingredients until they are well mixed. For a more liquid style pesto add the remaining olive oil and then pulse again to mix.
Adjust the flavor: Taste the sauce and then adjust the seasoning as desired.
Tips and Tricks
Customize your walnut pesto to your heart's content! Do you want it spicier? Add some red pepper flakes. Prefer a smokier flavor? Try using smoked paprika instead of garlic. The possibilities are endless, so have fun experimenting and perfecting your own unique blend of nutty goodness!
Toasted Walnuts: Toast your walnuts before using them in the pesto to bring out their nutty flavor and make them easier to mix.
Don't Over-blend: Do not overblend the pesto – you only need a few pulses to achieve a creamy texture.
Adjust Consistency: If the pesto seems too thick, you can brush it with a little olive oil.
Customize: Experiment with different herbs, nuts, and cheeses to create your own unique spin on the classic walnut pesto.
Storage of Leftovers
You'll want to make sure you store leftovers of this sauce. What a treat to have on hand! You can use it for so many different things. Pasta, sandwiches, flatbread pizza, you name it!
In the refrigerator: Don't let your precious homemade walnut pesto go to waste! To store it properly, just transfer the remaining pesto to a airtight container and then put it in the fridge. It will stay good for about a week. Just remember to add a thin layer of olive oil on top so it doesn't oxidize.
---
Add the basil leaves to a food processor along with the walnuts, parmesan cheese, garlic cloves, lemon juice, and salt. Pulse until the ingredients are finely chopped but not a paste.

Remove the lid and slowly pour in half the olive oil and pulse the ingredients together until it is well mixed. For a more liquid style pesto add the remaining olive oil and pulse again to mix.

Taste the sauce and adjust the seasoning as desired.
---
---
Serves: 4
Calories278kcal (14%)Carbohydrates3Mr (1%)protein7Mr (14%)fat28Mr (43%)Saturated Fat5Mr (25%)Polyunsaturated Fat7MrMonounsaturated fat15MrCholesterol9etc (3%)Sodium492etc (21%)Potassium114etc (3%)Fiber1Mr (4%)Sugar1Mr (1%)Vitamin A1049I.U (21%)Vitamin C5etc (6%)Calcium191etc (19%)iron1etc (6%)
All nutritional information is based on third party calculations and is an estimate only. Each recipe and nutritional value will vary depending on the brands you use, measurement methods and portion sizes per household.