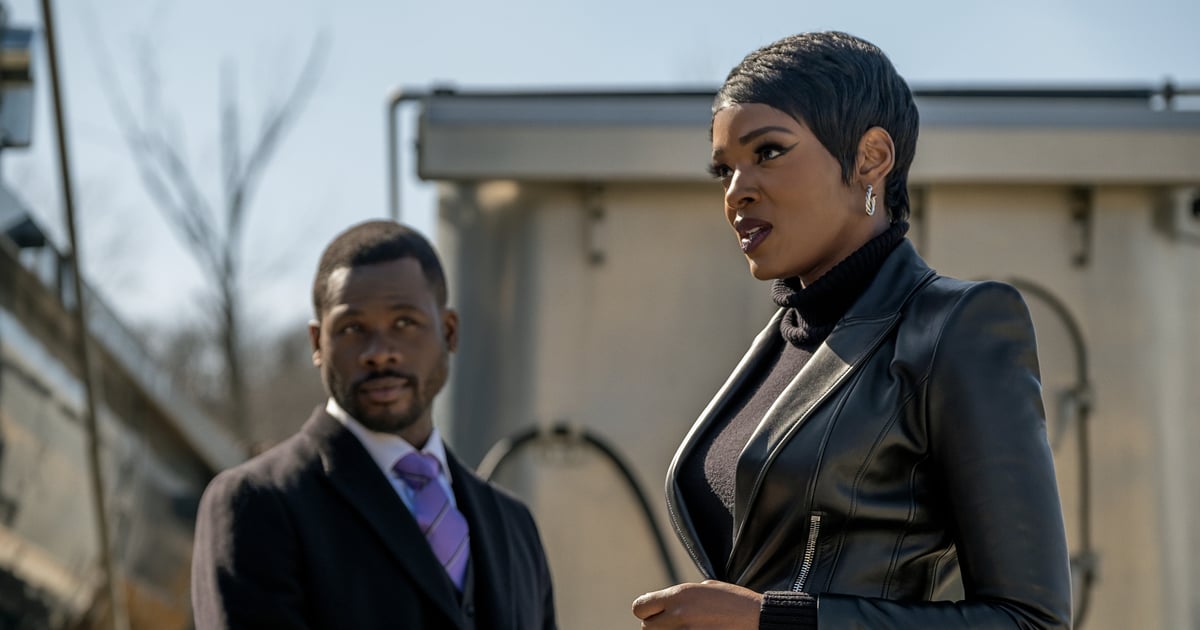 There's a new "badass queenpin" in town in "Power Book II: Ghost," and her name is Noma. In true "Power" fashion, the spinoff series introduces one of its newest villainous characters, played by Caroline Chikezie, in the most explosive way possible during the season threethe premiere, which aired on March 17.
The opening scene of the episode ends with Noma cutting off a woman's hand to retrieve an auctioned blue diamond ring belonging to her lover Mecca (Daniel Sunjata), must be given to him before he is killed. (Aka the same ring that Mecca gave Monet as a gift in season two.) But Noma doesn't even make her presence known until halfway through the premiere, when she rolls up on Tariq (Michael Rainey Jr.), Brayden (Gianni Paolo), and Cane (Woody McClain) in Mecca's penthouse, demanding that they start pushing drugs for him as penance, he believes, for killing his first lieutenant.
According to Starz, Noma is the "ruthless new hookup" who disrupts Tariq's plans to quit the drug game and puts him, Brayden, and Effie (Alix Lapri) back in business with the Tejadas because they "challenged to move more weight than ever before." Obviously, he's here to fix things. In fact, Chikezie told POPSUGAR that her "no-nonsense, f*ck around and find out" character "doesn't play any games" when it comes to her business, especially when she comes in to replace Mecca.
"She is a badass queenpin," the actor proclaims of Noma. "The guys fear her, and they should because if they mess with her, they're going to find out. She has no tolerance for nonsense — she doesn't play any games."
Chikezie said that most of what we see of Noma in "Power Book II" season three was created by showrunner Brett Mahoney when he booked the paper. However, the actor brought her queenpin character to life by drawing further inspiration from an unlikely source: Denzel Washingtonby Frank Lucas from "American Gangster." "When I read Noma, I knew what had to be done to portray him," Chikezie said, referring to the Oscar winner's unknown character. "I have yet to find a woman who can compare to him. He is quite a man, energetically speaking, so [she'd definitely] be Denzel in 'American Gangster.'"
According to Chikezie, the Tejadas, Tariq, and his crew will never know what hit them this season with Noma calling all the shots. "When he comes into their lives, they're running their little thing, but he comes in and he kind of takes over and shows them what's what," he said. "So yeah, she shakes up a lot of stuff. She restructures the whole thing they have going on. I don't want to say too much, but tune in and watch, you'll start to see how things unfold."
New episodes of "Power Book II: Ghost" air every Friday on Starz. Check out images of Chikezie's new character ahead.